We are constantly updating our calendar as events get added. Please check back frequently and follow us on Facebook and Twitter to stay up to date. 

The Pigeoning by Robin Frohardt | The Sheldon Theatre
Apr 26, 2019 @ 7:00 pm

-

9:00 pm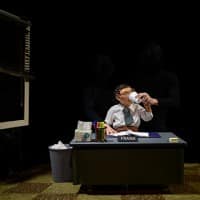 From award-winning artist Robin Frohardt, comes a comedic yet heartfelt story that will delight and enthrall both seasoned theatre goers and newcomers, including families with school-age children. The Pigeoning is an original play, hailed by the New York Times as "a tender, fantastical symphony of the imagination. Obsessed with cleanliness and order, the mild-mannered office worker Frank is plagued by pigeons. Convinced the pigeons are plotting against him, Frank sets out on an adventure to solve a problem that perhaps isn't really there? The story is created using Japanese bunraku-style puppetry, performed by five puppeteers with an original music score."
In addition Frohardt will perform a short, site-specific, interactive companion work, The Dumpster Monster, in locations around Red Wing in the days leading up to the mainstage performance of The Pigeoning. The Dumpster Monster features a 10 foot high inflatable plastic bag monster that explodes from a dumpster. The audience is encouraged to participate by playing with various cockroach, fly and rat puppets that swarm around him.
Known for her rich aesthetic and highly detailed constructions, Robin Frohardt is an award-winning artist, puppet designer and director living in Brooklyn, NY. Frohardt has a knack for taking a simple premise to an elaborate realization. Her rich imagination, unique sense of humor and stunning technical craft come together to create work that defies the conventions of traditional storytelling.
This event features free education and outreach activities, led by artists. Click here for details.
This is a Kids Play Free event.
Call 1-800-899-5759 or 651-388-8700 or visit http://www.sheldontheatre.org/ for more information.
Tickets: https://shel-internet.choicecrm.net/templates/SHEL/?prod=pigeoning#/events.